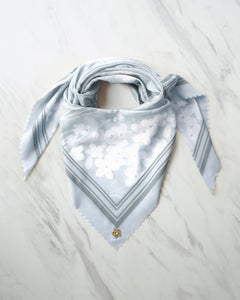 The Aurelie Story
Blooms of white lilies and hydrangeas symbolise purity and grace. It brings hope and exudes elegance. The shades of white that fall across all three of the Aurelie Collection remain the same while effortlessly complementing one another. 
Hydrangeas, first discovered in Japan, blossoms during rainy season and transforms places like the Mimurotoji Temple to a fragrant-full magical garden. The fragrant-full scent of both lilies and hydrangea inspired the Aurelie Collection. 
Description

The Aurelie Collection comes in 3 colours.
Each Daisy piece is meticulously tailored to create comfort and beauty in one. To top off its elegance a hand-crafted Daisy charm is added to every piece.

Premium Voile fabric
Lightweight
Minimal ironing - as required
Non-slippery and shapes with ease
Laser cut hem details
Comes with a gold Daisy charm
Comes with an exclusive Daisy box
Measurement: 115 x 115 cm

Care
Hand-washing is always the best and safest method for washing voile. It is recommended to use gentle detergent. Alternatively, launder the fabric in cool water on your machine's gentle cycle. It is recommended after wash, to dry the fabric under shaded area and not directly under sunlight. Should you require ironing - iron on low heat. 
*Please be informed these are just guidelines for fabric care and we are not responsible for the after care of the product.
*Please be informed that colours may vary slightly due to lighting and screen resolution.